Tag Archives:
portrait
Mimicking the wonderful Dan Winters. I love the way he edits and brings out such character in every single portrait.
I've always admired people who can devote their time and energy to keeping your body fit. As a photographer, it's hard to carve out time to go the gym and work out. The motivation is just not there… until of course you do a fitness shoot! I had the pleasure of shooting this sweet couple a few weeks ago.  As soon as I finished the shoot, I went to the gym for about 4hrs! I've been running at least 6 miles a week now and eating healthy. Long story short – headshots, fashion and portraits are awesome but photographers should really do more fitness photoshoots… it's good for their health.
Strobist info: black muslin background, 2 gridded strip boxes at AB800s and one flash behind the camera for a bit of fill.
I had the pleasure of taking corporate headshots for the San Francisco based start up company UberConference. What is UberConference you ask.
"UberConference brings a whole new visual dimension to audio conference calls. From any computer, anyone in the call can see the names, photos, and other information of the others in the call. The display shows the current speaker, and the organizer has a number of helpful tools to keep the conference running smoothly." – Copied and pasted from their website. 🙂
I use the product quite frequently when I need to have a meeting with remote clients. It's great and the best part is that it's free! The team at UC are super nice and extremely cooperative. I was actually a bit intimidated because with their Creative Director, Alex Cornell, leading the design team, UberConference has produced some ridiculously awesome promotional videos. Here are few shots from the photoshoot.
For the longest time, I've always thought of Sacramento as boring, stuffy and old smelling. I envisioned that people who live there talk about the Senate, House and the "State of State." Sacramento'nians to me are all politics and no fun. But after meeting and hanging out with the very cute, super fun and semi crazy Mary and Kim, Sacramento doesn't seem all the bad anymore.
It was fall of last year when we decided to do a "Sun Kiss" photoshoot inspired by the photography of John Agcaoili. Both of the ladies came over the house right before sun set and I started debriefing them about the shoot. We chose to shoot during "Golden Hour" because I just love the diffuse warm light the sun provides during that time.  I've been scouting for locations to shoot this concept for weeks now and we actually ended up near my house in a deserted horse ranch. It was a relatively fast and very efficient shoot because I've worked with both Mary and Kim before so I barely had to direct them and we transitioned from one shot to the next seamlessly.
The shoot went so fast that when we got home, we actually had enough energy to do a completely different shoot. I was going for the whole Terry Richardson (NSFW) look where the background is about 2 stops hotter and the model is about 1 stop over exposed. Using only 1 ring flash as my light source, I put both Mary and Kim in this small white box that's meant to be a "computer" area in one of the rooms. It worked like a charm. The light bounce around everywhere giving me a nice even background and much of details were kept intact.
Posted in

Concepts, Lifestyle, Portraits
Also tagged Bay area event photographer, Corporate Headshots, Kim, Mary, Mary and Kim, Moses Sison, Moses Sison Photography, MVNCI, portrait photography, Sacramento, Sun Kiss
|
Photographing a model who has extensive dance background is very different that photographing a model who grew up modeling. I had recently had the opportunity of photographing Eva Luna in my favorite studio The Candy Factory in Fremont, CA. Vince Gotti, the Director of Photography at GEV Magazine set the shoot up and contacted the amazing hair stylist Roy from Hairby Roy along with the always fabulous Prince Kaleo from The Armoire Closet to create a fantastic photography set.
Eva was so interesting to work with. Unlike most models who moves from pose to pose, Eva fluidly moved throughout the entire shoot. It was up to the photographer to guide the movement and capture an instance where the movement is at it's most beautiful state.  Now I would never give this posing advice when I am doing corporate headshots or portrait photography here in San Jose / San Francisco area but for some reason, she was able to make it work. Maybe it was because she was a dancer maybe she was just really good at what she does; no matter what the reason on how she made "fluid posing" work, I am looking forward to working with her again in the future.
Posted in

Fashion, Portraits
Also tagged Bay area event photographer, Bay Area Fashion photographer, bay area modeling agency photographer, Bay Area Photography, Candy Factory, Corporate Headshots, Corporate Portraits San Francisco, Eva Luna, GEV Magazine, Haryby Roy, headshots, Moses Sison, Moses Sison Photography, portrait photography, portraits, San Jose Photographer, Vince Gotti
|
Did you know that your whole body needs to be fully lubricated in order to wear latex? No? Well neither did I until my last photoshoot with British Alternative Super Model Ulorin Vex!
I've never really shot an alternative / punk rock model in the past so I wasn't sure what to expect. I checked out her website prior to the shoot and it was filled with some of the most creatively beautiful / crazy looking images I've ever seen. From doing mostly corporate headshot around Silicon Valley to shooting a latex wearing, red haired British model with nipple patches… the transition wasn't easy. The most risque shoot I've done prior to this was when Adam Pisoni, the CTO of Yammer Inc, decided to take off his tie and shoot outside! *gasp*
After the initial awkwardness of me introducing myself "Hello ummm I am Moses… I'll be taking your pictures today." and her replying with (in an English accent) "Good to meet you." Pip pip, cheerio, carry on." – I added that last part; the shoot went great. We took some full body pictures, several headshots and a couple of portraits. Below are some of my favorite images from the shoot.
Ohh and one last thing… huge thanks to the super sexy and talented Jodie Truong of JodieStudio for creating my new logo.
I rarely shoot professional models because most of my clientele are corporate folks here in the Bay Area who are looking for professional headshots. I needed to mix things up and I was lucky enough to be invited to one of CandyFactory's meet ups in Fremont CA. The model for this meet up was Ashlee and she was amazing. She was so professional and needed very little direction. I usually tend to talk a lot during a photoshoot so that my subject would loosen up and show their personality. Ashlee showed her personality right from the start and literally shut me up. Aside from the occasional "chin up", "move your hands" and "fix your hair", I didn't really have to say anything. Her make up was flawless, courtesy of Krytal Garza and lighting was fine tuned by Mr. Vincent G. If you're interested in the camera settings and technical stuff, I've listed the specs after the pictures.
Camera: 5d M2 ISO 100, f/8, 1/160
Lens: 70mm – 200mm 2.8L (most of my shots were around 135mm)
First picture was a beauty dish with a grid.
Second picture was a big soft box on top camera right with another soft box on camera left for fill.
Third picture was two huge softboxes on both side metered to be exactly the same.
Fourth picture was in a white cove with just one Profoto light.
Posted in

Fashion, Portraits
Also tagged Ashlee English, Bay Area Fashion photographer, bay area modeling agency photographer, Candy Factory, commercial photographer, Corporate Portraits San Francisco, Fremont, Krystal Garza, Moses Sison Photography, portrait photography, San Jose Photographer, Vincent G.
|
My friend Kimmy and I have been planning a portrait session at her place in Cupertino for about a year now but life keeps interfering. After rescheduling about 7 times, the planets finally aligned and we were able to meet up and do the shoot. It was awesome but what's even more awesome is where we went before the shoot… The Church of Scientology! I told several of my co-workers that I was visiting the Church of Scientology and they told me about Operation Snow White as well as several other crazy stories relating to Scientology. I am not gonna lie, I was somewhat scared and paranoid when we arrived in front of the building. Long story short, we went in and they gave us a nice little tour. It didn't seem too crazy and I actually think that Kimmy will be taking one of their classes soon.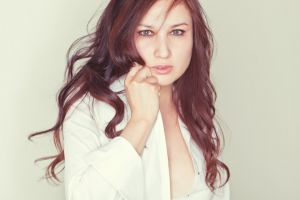 I've always admired the works of Keith Selle and other photographers who create a lot of images with models who are, for lack of a better word, "bad assess". These photographers are able to capture the intensity of the tattoos as well as the beauty of model. Being mostly a corporate and headshot photographer, I rarely get the chance to photograph models with badass tattoos and piercings. Unless Mike Tyson wants a headshot, my chances of photographing someone with an awesome tattoo is very slim.
As I troll Facebook one day, I came across a set of pictures from my news feed and what do you know, it's a set of pictures of some tatted up girl that I just happen to know. Her tats and piercings were so unique that I went ahead and contacted her to do a shoot. Long story short, we met up in Fremont at my friend's awesome studio, The Candy Factory Studio, and due to some time constraints, we literally only had about 15min to actually shoot. My awesome MUA/Hairstylist friend, Jessica Do, did her hair and some of her make up. The shoot was, in my opinion, a success. I cannot wait to work with her again in future projects.
Strobist Info:
F/6, 1/160, 5d mk2
Alien Bee 86′ PLM on camera right
Softbox on far camera left
Both had Ab800 on it at 1/4 power
Posted in

Fashion, Portraits
Also tagged Bad Ass Pictures, Bay area event photographer, Bay Area Fashion photographer, bay area modeling agency photographer, commercial photographer, Corporate Headshots, Corporate Portraits San Francisco, jessica do, Jodie Truong, Moses Sison, Moses Sison Photography, Piercing, portrait photography, San Jose Photographer, Senior Portraits, Tattoos
|
Recent Posts

Categories

April 2021
M
T
W
T
F
S
S
« Sep
1
2
3
4
5
6
7
8
9
10
11
12
13
14
15
16
17
18
19
20
21
22
23
24
25
26
27
28
29
30