Tag Archives:
portrait photography
Mimicking the wonderful Dan Winters. I love the way he edits and brings out such character in every single portrait.
I've always admired people who can devote their time and energy to keeping your body fit. As a photographer, it's hard to carve out time to go the gym and work out. The motivation is just not there… until of course you do a fitness shoot! I had the pleasure of shooting this sweet couple a few weeks ago.  As soon as I finished the shoot, I went to the gym for about 4hrs! I've been running at least 6 miles a week now and eating healthy. Long story short – headshots, fashion and portraits are awesome but photographers should really do more fitness photoshoots… it's good for their health.
Strobist info: black muslin background, 2 gridded strip boxes at AB800s and one flash behind the camera for a bit of fill.
I had the pleasure of taking corporate headshots for the San Francisco based start up company UberConference. What is UberConference you ask.
"UberConference brings a whole new visual dimension to audio conference calls. From any computer, anyone in the call can see the names, photos, and other information of the others in the call. The display shows the current speaker, and the organizer has a number of helpful tools to keep the conference running smoothly." – Copied and pasted from their website. 🙂
I use the product quite frequently when I need to have a meeting with remote clients. It's great and the best part is that it's free! The team at UC are super nice and extremely cooperative. I was actually a bit intimidated because with their Creative Director, Alex Cornell, leading the design team, UberConference has produced some ridiculously awesome promotional videos. Here are few shots from the photoshoot.
For the longest time, I've always thought of Sacramento as boring, stuffy and old smelling. I envisioned that people who live there talk about the Senate, House and the "State of State." Sacramento'nians to me are all politics and no fun. But after meeting and hanging out with the very cute, super fun and semi crazy Mary and Kim, Sacramento doesn't seem all the bad anymore.
It was fall of last year when we decided to do a "Sun Kiss" photoshoot inspired by the photography of John Agcaoili. Both of the ladies came over the house right before sun set and I started debriefing them about the shoot. We chose to shoot during "Golden Hour" because I just love the diffuse warm light the sun provides during that time.  I've been scouting for locations to shoot this concept for weeks now and we actually ended up near my house in a deserted horse ranch. It was a relatively fast and very efficient shoot because I've worked with both Mary and Kim before so I barely had to direct them and we transitioned from one shot to the next seamlessly.
The shoot went so fast that when we got home, we actually had enough energy to do a completely different shoot. I was going for the whole Terry Richardson (NSFW) look where the background is about 2 stops hotter and the model is about 1 stop over exposed. Using only 1 ring flash as my light source, I put both Mary and Kim in this small white box that's meant to be a "computer" area in one of the rooms. It worked like a charm. The light bounce around everywhere giving me a nice even background and much of details were kept intact.
Posted in

Concepts, Lifestyle, Portraits
Also tagged Bay area event photographer, Corporate Headshots, Kim, Mary, Mary and Kim, Moses Sison, Moses Sison Photography, MVNCI, portrait, Sacramento, Sun Kiss
|
The stereotypical "model" stands at about 5'9″ at around 145-150lbs. A study done in 2002 showed that among top editorial fashion agencies in Los Angeles and New York, 81% of their "editorial fashion" models were 5'9" and above; 15% were between 5'8" and 5'9", and only 4% were below 5'8" tall. With these statistics in mind, some women are often discouraged to pursue modeling as a profession due to their not meeting that height 'requirement'.
Then you have the rare case of a girl so damn driven to pursue a modeling career that even if you threw a book of statistics at her, it would never deter her ambition to pursue this career track, and Victoria Barajas is an excellent example of such a lady. Proudly standing less than five feet tall, I met her on set at the Candy Factory in Fremont during a photography meet up. Victoria's attitude and professionalism were top notch, and I was genuinely excited to work with her. Vincent Gotti, as always, had assembled a great group of sytlist; Roy from Hair by Roy got Victoria's hair "did", Prince Kaleo dressed and styled her and Carla Tersini did an amazing job with her make up.
Victoria is a very talented model and I would not be surprise to see her in print soon.
Photographing a model who has extensive dance background is very different that photographing a model who grew up modeling. I had recently had the opportunity of photographing Eva Luna in my favorite studio The Candy Factory in Fremont, CA. Vince Gotti, the Director of Photography at GEV Magazine set the shoot up and contacted the amazing hair stylist Roy from Hairby Roy along with the always fabulous Prince Kaleo from The Armoire Closet to create a fantastic photography set.
Eva was so interesting to work with. Unlike most models who moves from pose to pose, Eva fluidly moved throughout the entire shoot. It was up to the photographer to guide the movement and capture an instance where the movement is at it's most beautiful state.  Now I would never give this posing advice when I am doing corporate headshots or portrait photography here in San Jose / San Francisco area but for some reason, she was able to make it work. Maybe it was because she was a dancer maybe she was just really good at what she does; no matter what the reason on how she made "fluid posing" work, I am looking forward to working with her again in the future.
Posted in

Fashion, Portraits
Also tagged Bay area event photographer, Bay Area Fashion photographer, bay area modeling agency photographer, Bay Area Photography, Candy Factory, Corporate Headshots, Corporate Portraits San Francisco, Eva Luna, GEV Magazine, Haryby Roy, headshots, Moses Sison, Moses Sison Photography, portrait, portraits, San Jose Photographer, Vince Gotti
|
I rarely shoot professional models because most of my clientele are corporate folks here in the Bay Area who are looking for professional headshots. I needed to mix things up and I was lucky enough to be invited to one of CandyFactory's meet ups in Fremont CA. The model for this meet up was Ashlee and she was amazing. She was so professional and needed very little direction. I usually tend to talk a lot during a photoshoot so that my subject would loosen up and show their personality. Ashlee showed her personality right from the start and literally shut me up. Aside from the occasional "chin up", "move your hands" and "fix your hair", I didn't really have to say anything. Her make up was flawless, courtesy of Krytal Garza and lighting was fine tuned by Mr. Vincent G. If you're interested in the camera settings and technical stuff, I've listed the specs after the pictures.
Camera: 5d M2 ISO 100, f/8, 1/160
Lens: 70mm – 200mm 2.8L (most of my shots were around 135mm)
First picture was a beauty dish with a grid.
Second picture was a big soft box on top camera right with another soft box on camera left for fill.
Third picture was two huge softboxes on both side metered to be exactly the same.
Fourth picture was in a white cove with just one Profoto light.
My friend Kimmy and I have been planning a portrait session at her place in Cupertino for about a year now but life keeps interfering. After rescheduling about 7 times, the planets finally aligned and we were able to meet up and do the shoot. It was awesome but what's even more awesome is where we went before the shoot… The Church of Scientology! I told several of my co-workers that I was visiting the Church of Scientology and they told me about Operation Snow White as well as several other crazy stories relating to Scientology. I am not gonna lie, I was somewhat scared and paranoid when we arrived in front of the building. Long story short, we went in and they gave us a nice little tour. It didn't seem too crazy and I actually think that Kimmy will be taking one of their classes soon.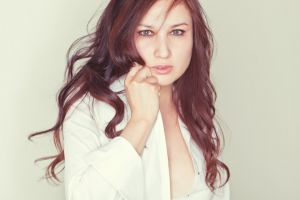 "Yammer brings the power of social networking inside the enterprise in a private and secure environment. Yammer has the same level of usability as great consumer software like Facebook and Twitter, but its applications have been designed for business collaboration. Why waste time and money trying to mandate tools that your employees resist adopting? Yammer is productivity software that employees love to use." – I couldn't have started this blog entry any better than how Yammer describes their awesome product. I personally use Yammer at work, so I was super stoked when they contacted me to shoot their corporate headshots. Like most companies, Yammer had a vague idea of what their headshot should look but also asked me for recommendations. I gave them two options. One was a very professional looking style, similar to what you would see in the website of a Fortune 100 company and the other was an environment shot using natural light. Instead of choosing one or the other they decided to do both.
My first Yammer post featured members of the organization in a Jill Greenberg lighting set up. I didn't do as much post processing work as Jill would have done to her subject and I also toned the accent lights just a wee bit. The second set of picture (shown below) is more modern and "hip". I shot them right outside the company using natural light and I used some pretty gnarly graffiti art we found in the alley. I could not have been happier of how the pictures turned out.
Check out my work on their webpage: https://www.yammer.com/about/management
Recent Posts

Categories

April 2021
M
T
W
T
F
S
S
« Sep
1
2
3
4
5
6
7
8
9
10
11
12
13
14
15
16
17
18
19
20
21
22
23
24
25
26
27
28
29
30