Tag Archives:
Corporate Portraits San Francisco
Mimicking the wonderful Dan Winters. I love the way he edits and brings out such character in every single portrait.
I LOVE doing headshots for aspiring actors and actresses. Why do you ask? Well let me count the ways:
1. They can take direction. Look up, look down, look straight into the camera, slight smile, no smile, are just some of the directions I give when shooting a headshot. Folks who have studied acting respond to these admirably.
2. On top of taking straightforward directions well, they can also understand "meta" directions. Directions such as look flirtatious, look villainous, look innocent, and so on are never followed with, "What do you mean?" They know what I meant and they execute it flawlessly.
3. They show up on time… or even early. Actors and actresses tend to be very punctual or even early for the shoot. They don't arrive 30min late then start acting like a diva demanding make-up and hair done ASAP! They are super humble because they understand how hard it is to work with someone who is a pain in the arse.
4. They are in The Zone with me! This is important because they know that it takes two to make a great headshot, the photographer and the subject. They live in the moment and match each other's energy right from the get-go. The Zone can be lonely sometimes so it's always nice to have someone there with you from time to time.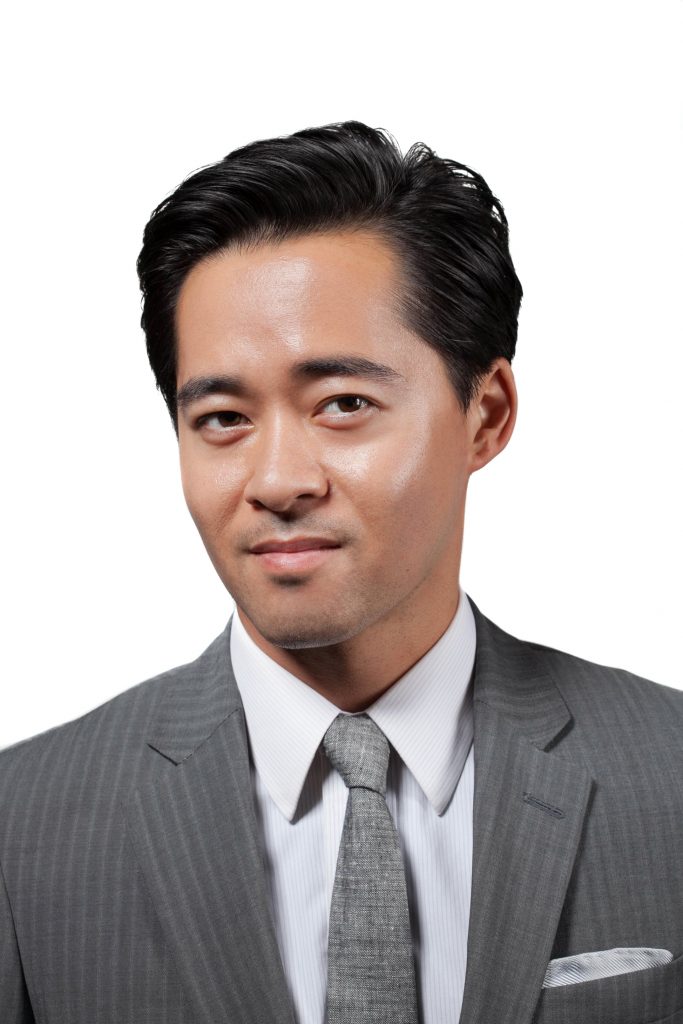 With that said, I truly enjoyed my photoshoot with Mr. Johnny La several months ago. He's a great guy who exhibited the 4 things I listed above. Here's a preview of our shoot. Check out his website at www.johnnyla.com.
The lighting was inspired by one of my favorite headshot photographer, Peter Hurley. http://peterhurley.com/
Photographing a model with extensive dance background is very different from photographing a model who grew up modeling. I had recently had the opportunity of photographing Eva Luna in my favorite studio, The Candy Factory in Fremont, CA. Vince Gotti, the Director of Photography at GEV Magazine, set the shoot up and contacted the amazing hair stylist Roy from Hair by Roy along with the always fabulous Prince Kaleo from The Armoire Closet to create a fantastic photography set.
Eva was so interesting to work with. Unlike most models who move from pose to pose, Eva fluidly moved throughout the entire shoot. It was up to the photographer to guide the movement and capture an instance of its most beautiful state.  Now I would never give this posing advice when I am doing corporate headshots or portrait photography here in San Jose / San Francisco area, but for some reason, she was able to make it work. Maybe it was because she was a dancer, maybe she was just really good at what she does; no matter what the reason on how she made "fluid posing" work, I am looking forward to working with her again in the future.
Posted in

Fashion, Portraits
Also tagged Bay area event photographer, Bay Area Fashion photographer, bay area modeling agency photographer, Bay Area Photography, Candy Factory, Corporate Headshots, Eva Luna, GEV Magazine, Haryby Roy, headshots, Moses Sison, Moses Sison Photography, portrait, portrait photography, portraits, San Jose Photographer, Vince Gotti
|
There have been talks on releasing an editorial spread for the 2012 HKLT Court for almost a year now. Well, it's almost near completion, and I wanted to give a quick preview. The girls were asked several questions, and one the intrigued me most is about the topic of "Beauty." Being a photographer, I certainly have an opinion about beauty, but this post is not about me; it's about the girls. So read on because what they have to say is very interesting.
What are your impressions when you hear somebody talk about beauty or mention that something or somebody is beautiful? What does "being beautiful" mean to you?
Janet Pham – Beauty means so many different things to each person.  When I hear someone use the term "beauty," I find it so subjective. As cliche as it is, I believe that beauty really is in the eye of the beholder. Beauty could refer to one's outward appearance, but this represents a preference and not a universal truth. There is no single, objective standard for physical beauty (even though there are social constructs of beauty in different societies, particularly ours with the media and Hollywood). To me, being beautiful means to first and foremost love and accept yourself. To be completely comfortable with who you are-your looks, your style, your character, your convictions. Without confidence, physical beauty is easily forgotten. The characteristics that define my personality enable my confidence, and to me, this is what being beautiful means. These things highlight and bring out physical beauty.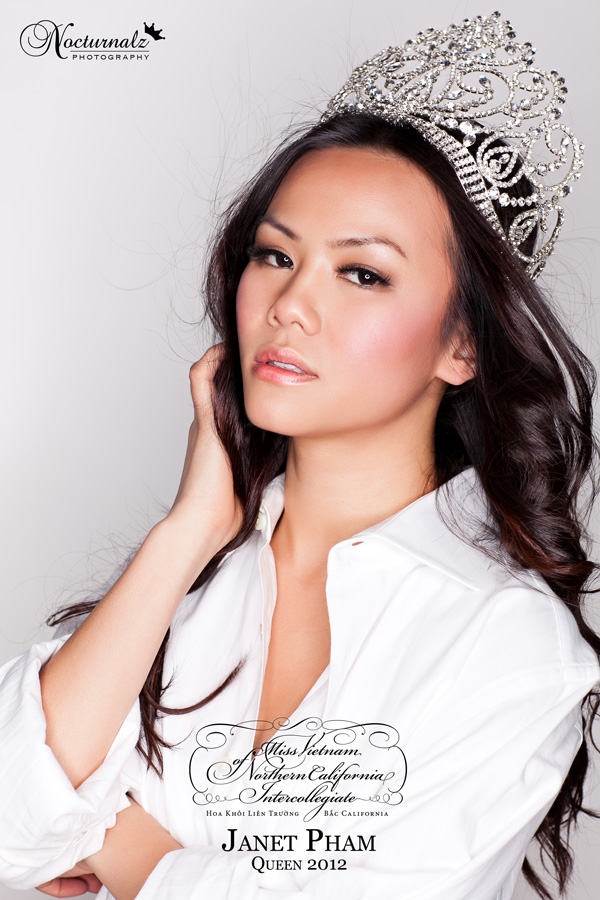 Kim Huynh – I love beauty. I don't mean to become abstract, but there's truth in beauty. The rare moments when you come across something so beautiful and perfect, so powerfully transcending it, makes you gasp like you've witnessed something that can never be replicated quite the same way. It's why I believe in the arts, why I belly dance and why I'm an English major. These are moments worth living for because they're moments I feel alive. When beauty is applied to a person, it's much harder to define. I try to quantify it, break it down analytically – "Yes, I agree she is beautiful because of the placement of her eyes or the prominence of her cheekbones." But have you ever noticed that people become worse-looking or better-looking depending on how you like them? In the battle between beauty and personality, you can't discount the latter.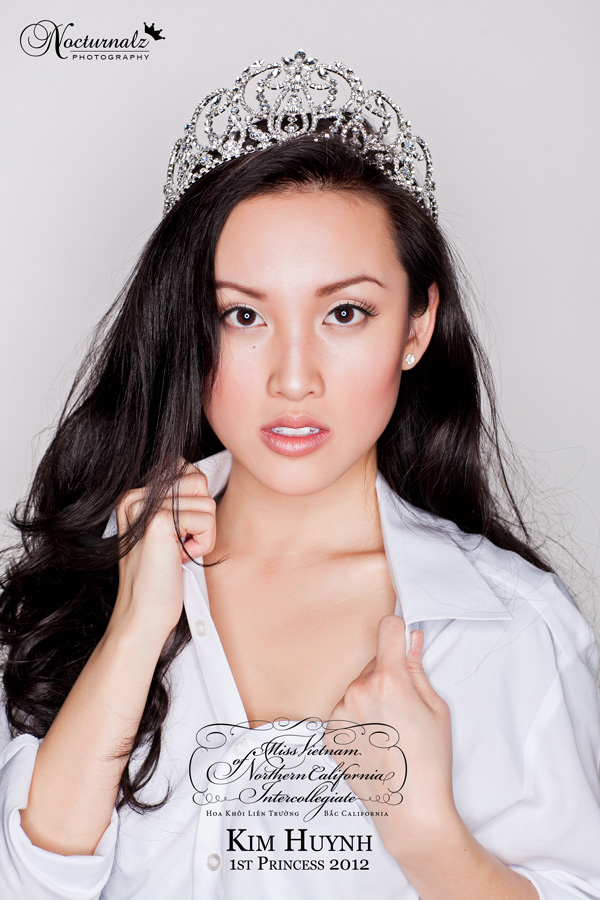 Kimmy Huynh – When I hear people talk about beauty, the first thing that comes to mind would be how beautiful the person looks.  Of course, outer beauty is nothing if the inner beauty is not there to support what's on the outside.  What is considered beautiful varies from individuals to individuals.  From the cultures that I have experience, beauty has many forms. Still, the basis seems to be standard overall, and that is the ability to carry oneself gracefully, be proud of oneself, and have aspirational dreams for the future.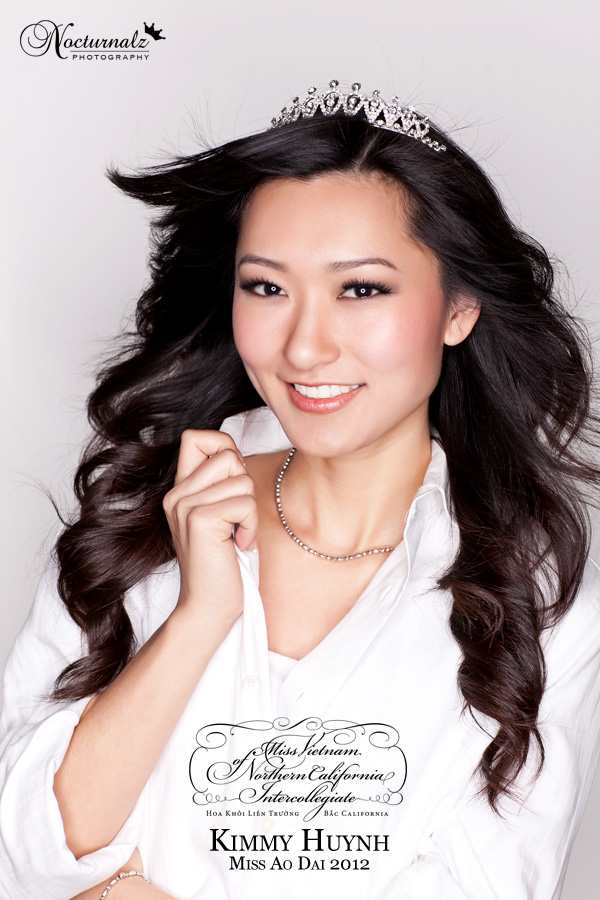 Theresa Ngo – The world and the media places great emphasis on "beauty," and the belief that beauty is everything can often be ingrained into our minds. This is also the root of the problem for women's insecurities and internal conflict to always remain "beautiful" in the public's eye. What defines beauty is truly subjective, and it is up to the eye of the beholder. There is a Vietnamese proverb, one of my favorites, that states, "Cai net danh chet cai dep". The rough translation means that personality and charm overcome outward beauty.  Beauty should encompass more than just a woman's outward features and genetic gifts-her talents and tribulations; her code of conduct, her values and beliefs, and her wisdom and intelligence should all be considered.
Visit the Miss Vietnam of Northern California on their own blog here.
I rarely shoot professional models because most of my clientele are corporate folks here in the Bay Area who are looking for professional headshots. I needed to mix things up and I was lucky enough to be invited to one of CandyFactory's meet ups in Fremont CA. The model for this meet up was Ashlee and she was amazing. She was so professional and needed very little direction. I usually tend to talk a lot during a photoshoot so that my subject would loosen up and show their personality. Ashlee showed her personality right from the start and literally shut me up. Aside from the occasional "chin up", "move your hands" and "fix your hair", I didn't really have to say anything. Her make up was flawless, courtesy of Krytal Garza and lighting was fine tuned by Mr. Vincent G. If you're interested in the camera settings and technical stuff, I've listed the specs after the pictures.
Camera: 5d M2 ISO 100, f/8, 1/160
Lens: 70mm – 200mm 2.8L (most of my shots were around 135mm)
First picture was a beauty dish with a grid.
Second picture was a big soft box on top camera right with another soft box on camera left for fill.
Third picture was two huge softboxes on both side metered to be exactly the same.
Fourth picture was in a white cove with just one Profoto light.
"Set in 1960s New York, the sexy, stylized and provocative AMC drama Mad Men follows the lives of the ruthlessly competitive men and women of Madison Avenue advertising, an ego-driven world where key players make an art of the sell." – Official Mad Men Site
I have always wanted to emulate the style that Don Draper epitomizes on this show, but, simply put, I don't look good in a hat. Since I can't dress like Don, I decided that taking inspriation from two of the primary female characters for this photo shoot would be more than satisfactory; the always discontent housewife Betty Francis (nee Draper), and everybody's favorite office manager Joan Harris. I couldn't have posted this with more perfect timing, as Mad Men starts the long awaited season 5 at the end of the month.
Special thanks to the impeccable Jessica Do  for her hair styling and make-up skills that so expertly captured the 'new-retro' feel I was going for in this shoot. Thanks to Jamie  for being my Betty Francis and to Cassie  for capturing Joan Harris so well. This set was shot at the always awesome Candy Factory Studio  in Fremont, California.
-Inspired by Betty Draper-
-Inspired by Joan Harris-
– Joan Harris and Betty Draper –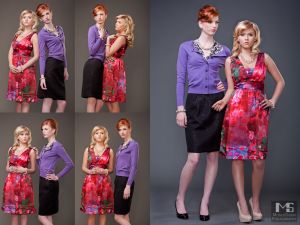 Special thanks to the ever so talented Jessica Do for her crazy hair styling and make up skills. Thanks to Jamie for being my Betty Draper and Cassie for capturing Joan Harris so well. This set was shot at the awesome Candy Factory Studio in Fremont, California.
"Yammer brings the power of social networking inside the enterprise in a private and secure environment. Yammer has the same level of usability as great consumer software like Facebook and Twitter, but its applications have been designed for business collaboration. Why waste time and money trying to mandate tools that your employees resist adopting? Yammer is productivity software that employees love to use." – I couldn't have started this blog entry any better than how Yammer describes their awesome product. I personally use Yammer at work, so I was super stoked when they contacted me to shoot their corporate headshots. Like most companies, Yammer had a vague idea of what their headshot should look but also asked me for recommendations. I gave them two options. One was a very professional looking style, similar to what you would see in the website of a Fortune 100 company and the other was an environment shot using natural light. Instead of choosing one or the other they decided to do both.
My first Yammer post featured members of the organization in a Jill Greenberg lighting set up. I didn't do as much post processing work as Jill would have done to her subject and I also toned the accent lights just a wee bit. The second set of picture (shown below) is more modern and "hip". I shot them right outside the company using natural light and I used some pretty gnarly graffiti art we found in the alley. I could not have been happier of how the pictures turned out.
Check out my work on their webpage: https://www.yammer.com/about/management
I've always admired the works of Keith Selle and other photographers who create a lot of images with models who are, for lack of a better word, "bad assess". These photographers are able to capture the intensity of the tattoos as well as the beauty of model. Being mostly a corporate and headshot photographer, I rarely get the chance to photograph models with badass tattoos and piercings. Unless Mike Tyson wants a headshot, my chances of photographing someone with an awesome tattoo is very slim.
As I troll Facebook one day, I came across a set of pictures from my news feed and what do you know, it's a set of pictures of some tatted up girl that I just happen to know. Her tats and piercings were so unique that I went ahead and contacted her to do a shoot. Long story short, we met up in Fremont at my friend's awesome studio, The Candy Factory Studio, and due to some time constraints, we literally only had about 15min to actually shoot. My awesome MUA/Hairstylist friend, Jessica Do, did her hair and some of her make up. The shoot was, in my opinion, a success. I cannot wait to work with her again in future projects.
Strobist Info:
F/6, 1/160, 5d mk2
Alien Bee 86′ PLM on camera right
Softbox on far camera left
Both had Ab800 on it at 1/4 power
Posted in

Fashion, Portraits
Also tagged Bad Ass Pictures, Bay area event photographer, Bay Area Fashion photographer, bay area modeling agency photographer, commercial photographer, Corporate Headshots, jessica do, Jodie Truong, Moses Sison, Moses Sison Photography, Piercing, portrait, portrait photography, San Jose Photographer, Senior Portraits, Tattoos
|
I do my fair share of wedding photograhy under a different company name (Nocturnalz Photography),  and I've been blessed to befriend several talented florists whose constant creativity has pushed my photography to the next level. One florist approached me after a wedding session with an idea to do a "chiquita banana" inspired photoshoot but instead of using fruits as the headdress, she wanted to use flowers! She linked me to a slideshow from an America's Next Top Model episode as a reference for our shoot.
I didn't exactly have the budget ANTM has so I suggested inviting a few makeup artists (Audrey and Mimi) and doing more of a beauty portrait shoot with the flower headdresses she had in mind. Stobist information below.
Strobist Info:
5d mk2 f/4, 1/160
2x 580 ex2 1 pointed at the background 1 stop higher than the one pointing at the model
Posted in

Fashion, Portraits
Also tagged Audrey Mendoza MUA, Bay Area Fashion photographer, bay area modeling agency photographer, Bay Area Photography, Chiquita Banana, Corporate Headshots, Floral Headdress, headshots, Jodie Truong, Mimi Tran MUA, Moses Sison, Moses Sison Photography, portrait photography
|
I've recently had the pleasure of doing Yammer Inc's headshots in San Francisco, CA. Lighting set up and details about the shoot will be on my next entry.