Tag Archives:
Bay Area Fashion photographer
A few headshots around San Antonio's River Walk Park.
Who said you need to be a couple to shoot at Lovers Lane in SF?! Meet Mr. R. He needed a few portraits for personal use and he wanted a unique outdoor place as a backdrop.
I am getting old and I just don't recover as fast as I did before. Luckily, I was contacted by the founder of this amazing miracle cream. It works! My left knee thanks me every time I apply it. BTW, they don't only sell the product but they use it as well.
A couple that plans their finances together stays together. Meet Mr. E and Miss. J. They are a powerhouse in the financial industry. They personally help me with my investments and retirement funds. Both are very friendly and super knowledgeable of how your money can work for you.
I've always admired people who can devote their time and energy to keeping your body fit. As a photographer, it's hard to carve out time to go to the gym and work out. The motivation is not there… until, of course, you do a fitness shoot! I had the pleasure of shooting this sweet couple a few weeks ago.  As soon as I finished the shoot, I went to the gym for about 4hrs! I've been running at least 6 miles a week now and eating healthy. Long story short – headshots, fashion, and portraits are awesome, but photographers should really do more fitness photoshoots… it's good for their health.
Strobist info: black muslin background, 2 gridded strip boxes at AB800s, and one flash behind the camera for a bit of fill.
The stereotypical "model" stands at about 5'9″ at around 145-150lbs. A study done in 2002 showed that among top editorial fashion agencies in Los Angeles and New York, 81% of their "editorial fashion" models were 5'9" and above; 15% were between 5'8" and 5'9", and only 4% were below 5'8" tall. With these statistics in mind, some women are often discouraged from pursuing modeling as a profession due to their not meeting that height 'requirement.'
Then you have the rare case of a girl so damn driven to pursue a modeling career that even if you threw a book of statistics at her, it would never deter her ambition to pursue this career track, and Victoria Barajas is an excellent example of such a lady. Proudly standing less than five feet tall, I met her on set at the Candy Factory in Fremont during a photography meet-up. Victoria's attitude and professionalism were top-notch, and I was genuinely excited to work with her. Vincent Gotti, as always, had assembled a great group of stylists; Roy from Hair by Roy got Victoria's hair "did," Prince Kaleo dressed and styled her, and Carla Tersini did an amazing job with her makeup.
Victoria is a very talented model, and I would not be surprised to see her in print soon.
Photographing a model with extensive dance background is very different from photographing a model who grew up modeling. I had recently had the opportunity of photographing Eva Luna in my favorite studio, The Candy Factory in Fremont, CA. Vince Gotti, the Director of Photography at GEV Magazine, set the shoot up and contacted the amazing hair stylist Roy from Hair by Roy along with the always fabulous Prince Kaleo from The Armoire Closet to create a fantastic photography set.
Eva was so interesting to work with. Unlike most models who move from pose to pose, Eva fluidly moved throughout the entire shoot. It was up to the photographer to guide the movement and capture an instance of its most beautiful state.  Now I would never give this posing advice when I am doing corporate headshots or portrait photography here in San Jose / San Francisco area, but for some reason, she was able to make it work. Maybe it was because she was a dancer, maybe she was just really good at what she does; no matter what the reason on how she made "fluid posing" work, I am looking forward to working with her again in the future.
Posted in

Fashion, Portraits
Also tagged Bay area event photographer, bay area modeling agency photographer, Bay Area Photography, Candy Factory, Corporate Headshots, Corporate Portraits San Francisco, Eva Luna, GEV Magazine, Haryby Roy, headshots, Moses Sison, Moses Sison Photography, portrait, portrait photography, portraits, San Jose Photographer, Vince Gotti
|
There have been talks on releasing an editorial spread for the 2012 HKLT Court for almost a year now. Well, it's almost near completion, and I wanted to give a quick preview. The girls were asked several questions, and one the intrigued me most is about the topic of "Beauty." Being a photographer, I certainly have an opinion about beauty, but this post is not about me; it's about the girls. So read on because what they have to say is very interesting.
What are your impressions when you hear somebody talk about beauty or mention that something or somebody is beautiful? What does "being beautiful" mean to you?
Janet Pham – Beauty means so many different things to each person.  When I hear someone use the term "beauty," I find it so subjective. As cliche as it is, I believe that beauty really is in the eye of the beholder. Beauty could refer to one's outward appearance, but this represents a preference and not a universal truth. There is no single, objective standard for physical beauty (even though there are social constructs of beauty in different societies, particularly ours with the media and Hollywood). To me, being beautiful means to first and foremost love and accept yourself. To be completely comfortable with who you are-your looks, your style, your character, your convictions. Without confidence, physical beauty is easily forgotten. The characteristics that define my personality enable my confidence, and to me, this is what being beautiful means. These things highlight and bring out physical beauty.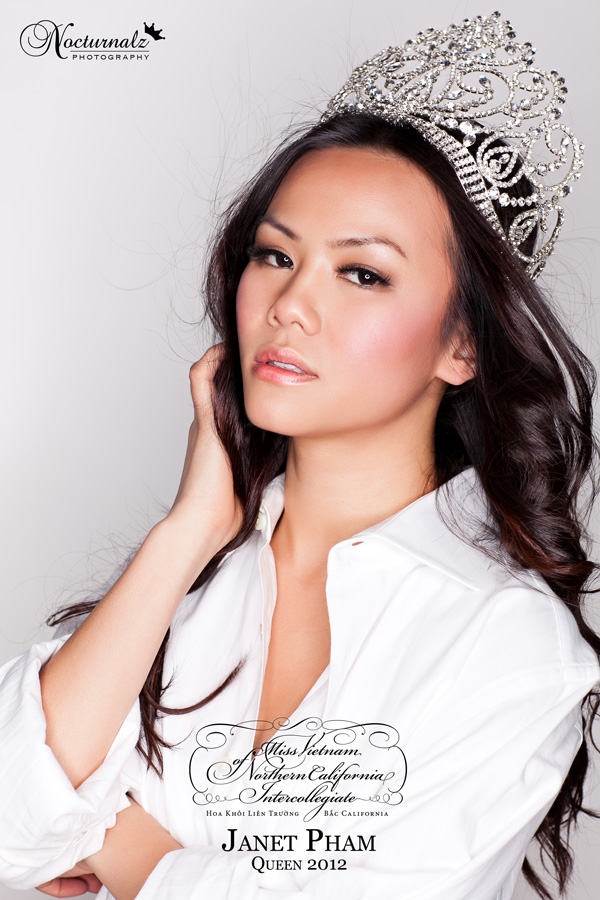 Kim Huynh – I love beauty. I don't mean to become abstract, but there's truth in beauty. The rare moments when you come across something so beautiful and perfect, so powerfully transcending it, makes you gasp like you've witnessed something that can never be replicated quite the same way. It's why I believe in the arts, why I belly dance and why I'm an English major. These are moments worth living for because they're moments I feel alive. When beauty is applied to a person, it's much harder to define. I try to quantify it, break it down analytically – "Yes, I agree she is beautiful because of the placement of her eyes or the prominence of her cheekbones." But have you ever noticed that people become worse-looking or better-looking depending on how you like them? In the battle between beauty and personality, you can't discount the latter.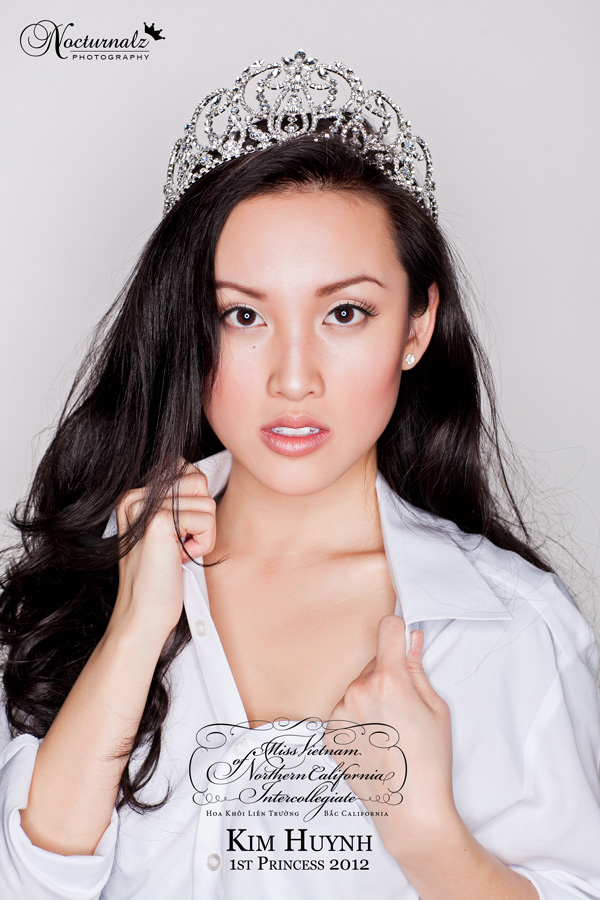 Kimmy Huynh – When I hear people talk about beauty, the first thing that comes to mind would be how beautiful the person looks.  Of course, outer beauty is nothing if the inner beauty is not there to support what's on the outside.  What is considered beautiful varies from individuals to individuals.  From the cultures that I have experience, beauty has many forms. Still, the basis seems to be standard overall, and that is the ability to carry oneself gracefully, be proud of oneself, and have aspirational dreams for the future.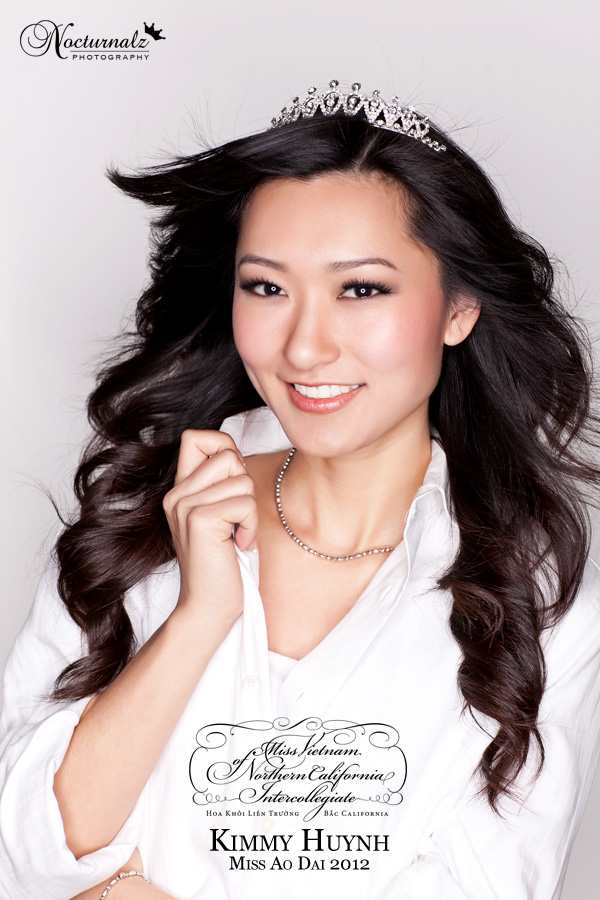 Theresa Ngo – The world and the media places great emphasis on "beauty," and the belief that beauty is everything can often be ingrained into our minds. This is also the root of the problem for women's insecurities and internal conflict to always remain "beautiful" in the public's eye. What defines beauty is truly subjective, and it is up to the eye of the beholder. There is a Vietnamese proverb, one of my favorites, that states, "Cai net danh chet cai dep". The rough translation means that personality and charm overcome outward beauty.  Beauty should encompass more than just a woman's outward features and genetic gifts-her talents and tribulations; her code of conduct, her values and beliefs, and her wisdom and intelligence should all be considered.
Visit the Miss Vietnam of Northern California on their own blog here.
Did you know that your whole body needs to be fully lubricated to wear latex? No? Well, neither did I until my last photoshoot with British Alternative Super Model Ulorin Vex!
I've never shot an alternative/punk rock model in the past, so I wasn't sure what to expect. Before the shoot, I checked out her website, and it was filled with some of the most creatively beautiful / crazy-looking images I've ever seen. From doing mostly corporate headshot around Silicon Valley to shooting a latex-wearing, red-haired British model with nipple patches… the transition wasn't easy. The most risque shoot I've done before this was when Adam Pisoni, the CTO of Yammer Inc, decided to take off his tie and shoot outside! *gasp*
After the initial awkwardness of me introducing myself, "Hello Ummm I am Moses… I'll be taking your pictures today." and her replying with (in an English accent) "Good to meet you." Pip pip, cheerio, carry on." – I added that last part; the shoot went great. We took some full-body pictures, several headshots, and a couple of portraits. Below are some of my favorite images from the shoot.
Ohh, and one last thing… huge thanks to the super sexy and talented Jodie Truong of JodieStudio for creating my new logo.
I rarely shoot professional models because most of my clientele are corporate folks here in the Bay Area who are looking for professional headshots. I needed to mix things up and I was lucky enough to be invited to one of CandyFactory's meet ups in Fremont CA. The model for this meet up was Ashlee and she was amazing. She was so professional and needed very little direction. I usually tend to talk a lot during a photoshoot so that my subject would loosen up and show their personality. Ashlee showed her personality right from the start and literally shut me up. Aside from the occasional "chin up", "move your hands" and "fix your hair", I didn't really have to say anything. Her make up was flawless, courtesy of Krytal Garza and lighting was fine tuned by Mr. Vincent G. If you're interested in the camera settings and technical stuff, I've listed the specs after the pictures.
Camera: 5d M2 ISO 100, f/8, 1/160
Lens: 70mm – 200mm 2.8L (most of my shots were around 135mm)
First picture was a beauty dish with a grid.
Second picture was a big soft box on top camera right with another soft box on camera left for fill.
Third picture was two huge softboxes on both side metered to be exactly the same.
Fourth picture was in a white cove with just one Profoto light.